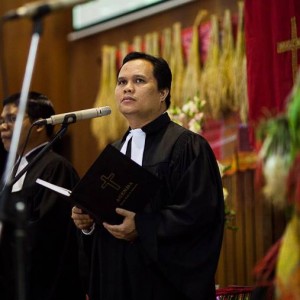 Today, in global context, I believe that the best way to conduct evangelism mission is "not only say something about Jesus, but do something like Jesus". Jesus gave us a new life. "Therefore if anyone in Christ, he is a new creature; the old things passed away; behold, new things have come" (2 Corinthians 5: 17).  As a new creature, anyone in Christ became ambassadors for Christ – and Christ gave them the ministry of reconciliation as a result.
HKBP New York stand together with HKBP over the world commit to conduct evangelism around the world by vision:
"Being Blessed"
We stand by the truth and love, promoting reconciliation, overcoming barriers, and building peace. Practice "living for the sake of others" as the guiding principle for establish the true community of renewed people.
Pdt. Erwin Rambe